SPECIALIST IN PROFESSIONAL CERAMIC COATING SERVICES IN MELBOURNE
As a Porsche owner, you know your vehicle is a work of art – a precision based machine, that deserves the utmost care and attention. That's why it's essential to invest in Porsche paint protection. By doing so, you're ensuring that your car's exterior will stay looking like new for years to come.
Moreover, a range of protection options are available, from ceramic coatings to clear paint protection film. You can choose the level of coverage that suits your needs. So why wait? Protect your investment today, and enjoy a beautiful Porsche for many miles to come.
UNDERSTANDING THE BASICS OF PORSCHE PAINT PROTECTION
Porsche is known for making some of the finest sports cars in the world. If you are the proud owner of one, you'll want to do everything you can to keep it looking pristine. Yet, one crucial part of this is getting the proper paint protection that will help keep your vehicle looking its best for years to come.
Undoubtedly, Porsche paint protection is specially designed to protect your car's beautiful finish from various hazards, such as dirt, dust, and scratches. This unique coating is an investment that can save you time and money in maintenance and repairs. If you want to protect your Porsche's paintwork and maintain its stunning beauty, look no further than Porsche paint protection.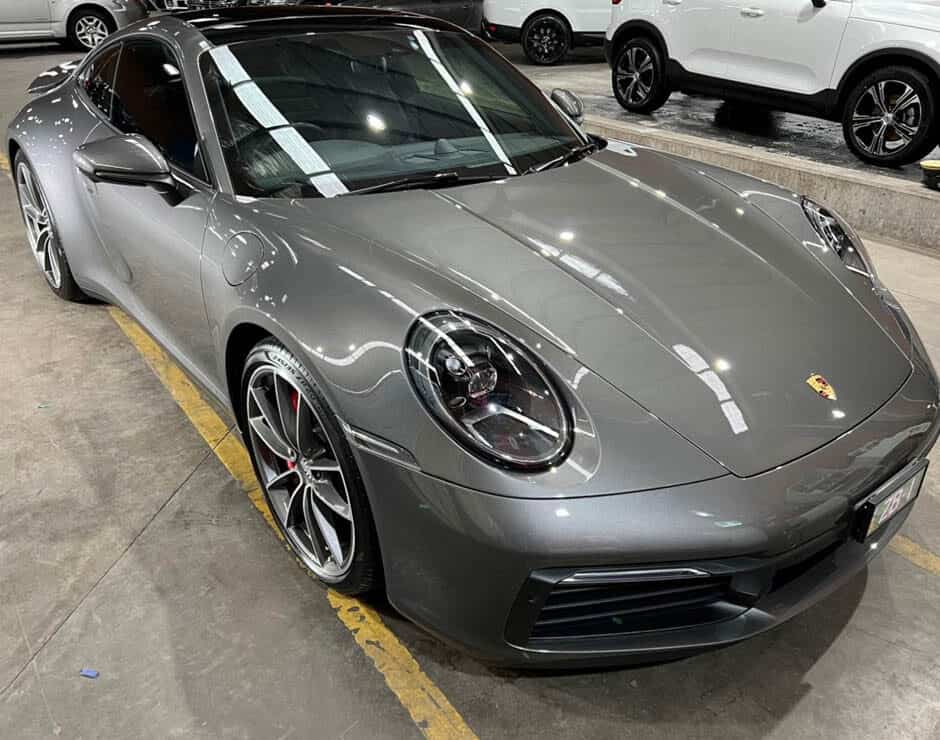 SIGNS THAT YOUR CAR NEEDS A PAINT PROTECTION SERVICE
If you're a car owner, you know how important it is to keep your car looking as good as new. Yet, after a few years of use, the paint on your vehicle can get damaged due to exposure to the elements. That's why it's essential to know the signs that your car needs a paint protection service.
One of the best ways to keep your Porsche in excellent condition is by getting Porsche paint protection. Moreover, there are signs that your vehicle needs a paint protection service, including fading paint, scratches and swirl marks, and stains or spots. Hence, don't wait until your car looks old and worn out. Contact Fine Shine Detailing, a professional paint protection service, to keep your vehicle looking new for years.
BENEFITS OF INVESTING IN PORSCHE PAINT PROTECTION SERVICES
As a proud owner of a Porsche, you want to keep your vehicle looking pristine for as long as possible. It is where Porsche Paint Protection services come in. At the same time, investing in this service ensures that your car's paint is shielded from wear and tear. Such as by daily driving, UV rays, and harsh weather conditions. The result? A shiny and polished Porsche that maintains its resale value and turns heads on the road.
Nonetheless, Porsche Paint Protection can also save you money in the long run by protecting your car's exterior from costly damage. The investment is worth it – your Porsche is valuable and deserving of the best care and protection available.
HOW TO FIND THE RIGHT PROFESSIONAL FOR YOUR PORSCHE PAINT PROTECTION NEEDS
Your Porsche is not a car; it's a piece of art. A beautiful machine that deserves the best treatment possible. Furthermore, when protecting the paint job on your Porsche, you want to entrust the right professional. Finding the right one can be daunting, but it doesn't have to be.
Moreover, you want someone who understands the complexities of Porsche paint and has experience in dealing with high-end cars. Look for reviews, check out their portfolio, and ask around in your car enthusiast community. With the right professional, you can be sure your Porsche will be protected and look great for years.
IMPORTANCE OF APPLYING QUALITY PRODUCTS FOR PORSCHE PAINT PROTECTION
The value of a Porsche goes beyond the mere investment of its purchase. It represents a unique and tailored experience. To preserve its luxurious and sporty look for years, one must take extra care of the paint work. Applying quality products for Porsche paint protection is the key. Investing in high-quality products will pay off in the long run. It reduces the need for costly repairs and maintains the car's resell value.
Nonetheless, we should always choose the best protection products of our car. Such as ceramic coatings, transparent films, or nano coatings. Provide your Porsche long-lasting protection against scratches, stains, and other environmental factors. Don't settle for less; get the best protection for your Porsche.
To wrap up, it's clear that having paint protection on your Porsche is a must. Thus, investing in some quality protection for your car can assist in caring for your vehicle long term. If you want more advice or help protecting your Porsche, contact Fine Shine Detailing today on 0426 164 009.
Our team of experts have years of experience providing a range of detailing services. These services include paint protection and other products and services to keep your vehicle looking new. Let Fine Shine Detailing assist with finding the right paint protection option for you today!
OTHER BRANDS WE DO PAINT PROTECTION FOR