Audi Paint Protection
Investing in paint protection is a wise choice to keep your Audi looking its best in protecting your vehicle's paint job from the wear and tear of everyday use. Also, weather and environmental factors can help keep it looking new for years. We aim to help you keep your Audi looking its best, so you can enjoy it for many years.
Do you want to ensure that your Audi looks pristine for years? Paint protection is essential to keep your car looking shiny and new. Whether you've recently purchased a new car or have an older model that needs some care, paint protection is worth considering. Moreover, we'll be diving into the benefits of Audi paint protection. And what it takes to get started with protecting the luxury paintwork of your vehicle. Learn why investing in Audi paint protection today can lead to a better resale value tomorrow!
What is Audi paint protection, and why should you get it
When investing in an Audi, you want to ensure your vehicle retains its pristine appearance for years
. That's where Audi paint protection comes in. This advanced technology shields your car's exterior from wear and tear. It helps prevent damage from natural elements like sun, wind, and rain.
Audi paint protection is a clear coat applied over your car's paint job, ensuring a seamless, near-invisible layer of protection. Not only does this safeguard your vehicle's value and appearance. But it also saves you money in the long run by reducing the need for paint touch-ups or costly repair work. So if you want to keep your Audi looking showroom-ready, Audi paint protection is an investment you will want to take advantage of.
The different types of Audi paint protection packages available
As the proud owner of an Audi, you know the importance of taking care of your investment. One way to do that is by opting for Audi's paint protection packages. These packages come in various options, each designed to meet specific needs.
Furthermore, the basic package offers protection against environmental factors like tree sap and bird droppings
.
From the premium package with full body coverage and a 5-year warranty, there's something for every Audi owner
. Which package is right for you?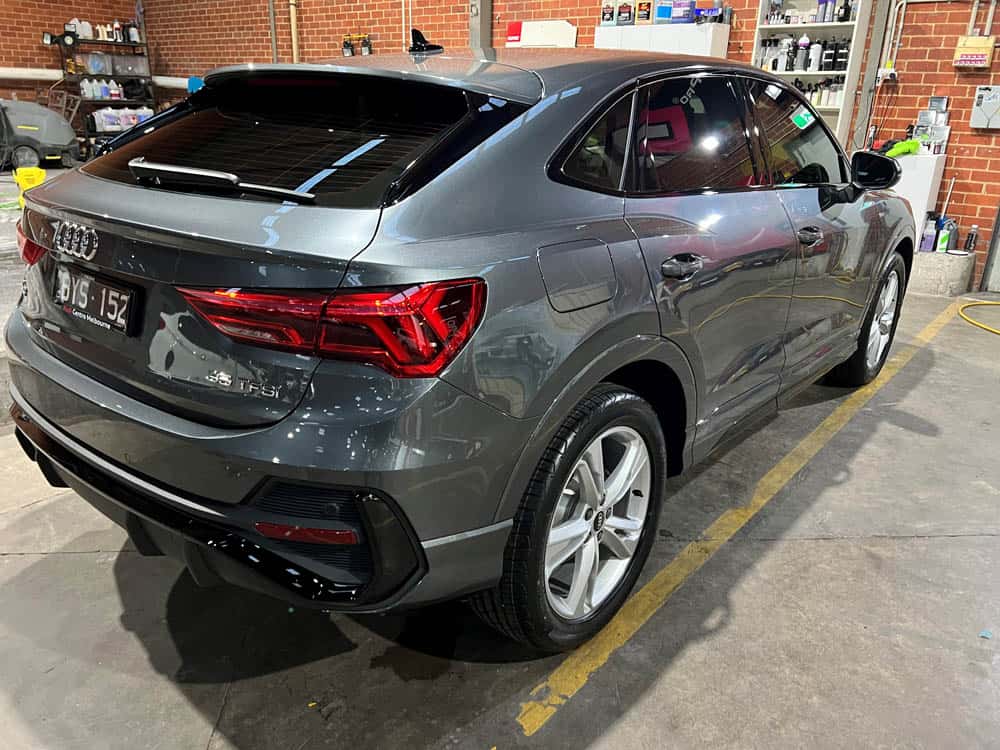 Don't hesitate to contact your Audi dealership for more information and guidance. With Audi's paint protection packages, you can rest easy knowing your car is well-protected and looking its best.
Benefits of using Audi paint protection on your car
When protecting your Audi from wear and tear, there's no better solution than using Audi paint protection
.
This protective coating
is designed
to shield your car's paint from damage caused by harsh weather conditions, road debris, and natural wear and tear
.
The benefits of using Audi paint protection are many – not only does it preserve your vehicle's appearance
. But it can also help maintain its resale value. Investing in this professional-level protection ensures that your Audi remains as pristine. And beautiful as the day you drove it off the lot.
How to choose the best Audi paint protection package for your car
Hence, choosing your car's best Audi paint protection package can be daunting, especially with many available options
. Consider the level of protection you need, your driving type, and your budget. Moreover, i
nvesting in a quality paint protection package can help preserve the appearance and value of your car
. It ensures that it looks its best for years to come.
At Audi, we offer a range of paint protection packages designed to suit all needs and budgets. Yet, our expert team can guide you through the options and help you find the perfect package for your car. With Audi paint protection, you can enjoy peace of mind and keep your vehicle looking sleek and stylish for longer.
Tips for applying Audi paint protection to your car
If you're the owner of an Audi, you know how much care and investment goes into maintaining its pristine appearance. One way to ensure your car looks show-worthy is by applying Audi paint protection.
It can be daunting but can
be done
quickly
and
effectively
with the right tips. Before you begin:
Make sure you

thoroughly

clean your car.

Use high-quality microfiber towels and automotive shampoo to remove any dirt and grime.

Once your vehicle is clean and dry, apply the paint protection using a foam applicator pad and work in small sections

.

Remember to buff the security in with a clean microfiber towel.
By following these tips, you'll be able to keep your Audi looking flawless for years to come.
Conclusion:
In conclusion, paint protection is essential to
properly
caring for your Audi. Taking the time to wax, polish, and protect the finish will help keep your vehicle looking its best. 
Hire a professional auto detailing service that can apply protection for your Audi's model and year
. Fine Shine Detailing offers premier automotive detailing services across Melbourne. Get in touch today if you're interested in learning more!
Ultimately
, taking care of your Audi now will ensure a beautiful finish that will stand up against the test of time
. So treat yourself and give your car the protection it deserves!