Mazda Paint Protection
Do you want to ensure that your Mazda looks pristine for years? Paint protection is essential to keep your car looking shiny and new. Whether you've recently purchased a new car or have an older model that needs some care, paint protection is worth considering. Moreover, we'll be diving into the benefits of Mazda paint protection. And what it takes to get started with protecting the luxury paintwork of your vehicle. Learn why investing in Mazda paint protection today can lead to a better resale value tomorrow!
What is Mazda Paint Protection and How Does it Work
Mazda Paint Protection is an advanced and comprehensive package. It provides top-notch protection for your car's paintwork.
This package applies a specially-formulated coating that shields—your vehicle from external elements, like UV rays, bird droppings, and tree sap
. The layer also gives your car a glossy finish that lasts for years.
There are various levels of Mazda Paint Protection packages, each designed to meet different needs and budgets. The cost of each package will depend on the extent of protection you want. Investing in Mazda Paint Protection is bright for any car owner who wishes to keep their car in spotless condition.
Benefits of Mazda Paint Protection
As a proud owner of a Mazda vehicle, it's crucial to protect your investment and maintain its pristine condition
. That's where Mazda paint protection comes in. The Mazda paint protection package is a worthwhile investment. Protect your car's paint job from the elements and everyday wear and tear.
This package includes a clear, durable coat that protects against damage. Yet, that has
been caused by
UV rays, bird droppings, tree sap, and other contaminants.
Not only does this protect your car's exterior, but it also prevents the need for costly touch-ups or repainting down the line
. 
While the Mazda paint protection cost may seem like an added expense, it's a bright and cheap choice in the long run. Don't hesitate to give your Mazda the protection it deserves.
Paint Protection Packages Available for Mazda Vehicles
If you're the proud owner of a Mazda, you'll want to keep your vehicle looking as good as new for as long as possible. That's where the Mazda paint protection package comes in. This package
is designed
for Mazda vehicles.
It protects against environmental hazards such as UV rays, bird droppings, and tree sap
.
Not only does it prevent
unsightly
damage to your car's paint job, but it also helps to keep its resale value. The cost of the package varies depending on your vehicle and the level of protection you choose. But it's a small price to pay for the peace of mind that comes with protecting your investment.
Invest in a Mazda paint protection package today and enjoy driving your car with confidence
.
Cost Considerations – Is Paint Protection Worth It
When protecting your vehicle's paint job, the temptation to skimp on expenses can be much. But, investing in Mazda's paint protection package may be worth the cost. The package offers a high-quality film that covers your vehicle's vulnerable areas. It protects from scratches, scuffs, and other forms of damage.
This added layer of protection can save you significant money in the long run by preventing the need for frequent touch-ups or repainting
.
Additionally, the package can help maintain the resale value of your Mazda by keeping its exterior in pristine condition. When considering the cost, the benefits of Mazda's paint protection make it a wise investment for any car enthusiast—looking to keep their vehicle in top condition.
What to Look for When Choosing a Paint Protection Package
When it comes to protecting your purchased Mazda, there's no doubt that opting for a paint protection package is a wise decision. But with so many options available, it can be overwhelming to determine which is the best fit for your needs and budget. Before deciding, it's essential to research the different types of paint protection.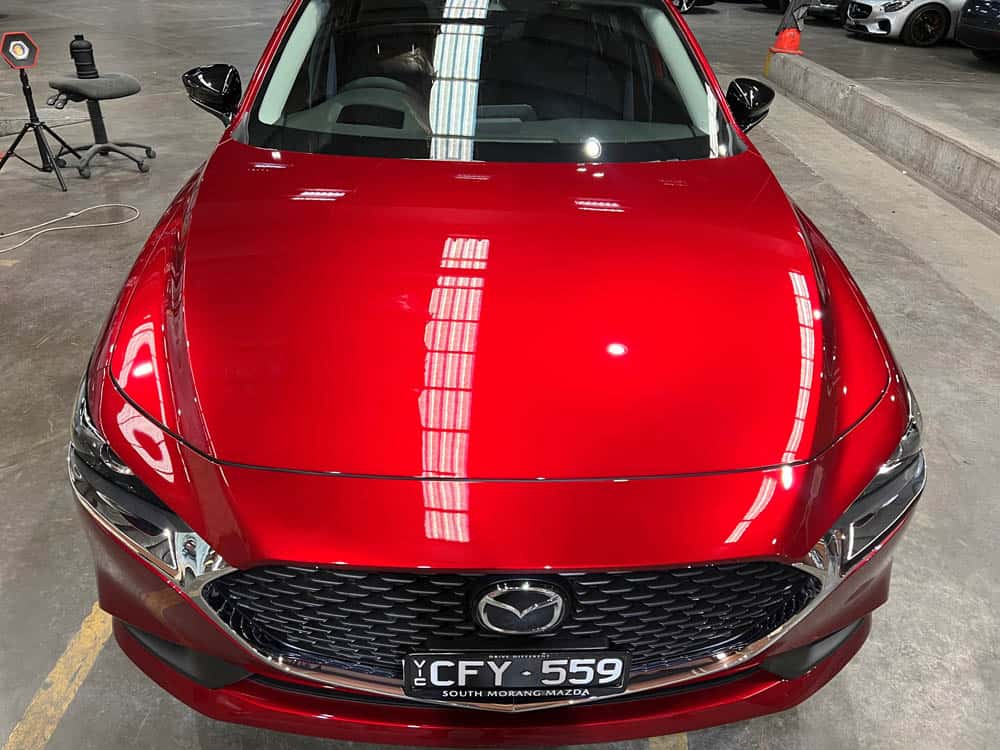 You'll also want to consider the cost, as some packages may be more expensive.
Look for containers that offer long-lasting protection and consider the warranty that comes with it
. Choosing a paint protection package can save you time and money in the long run by preventing damage. And also preserving the value of your Mazda.
Tips for Maintaining Your Vehicle's Paint with Paint Protection
Maintaining the paint on your car can be daunting, but it doesn't have to be. The Mazda paint protection package keeps your vehicle looking brand new for years. This package protects against environmental factors such as UV rays. It can prevent chips and scratches from ruining your car's appearance.
The cost of the Mazda paint protection package is an upfront investment. It can save you significant amounts of money in the long run by preventing the need for costly repairs. Follow simple tips, like washing your car and avoiding parking under trees. You can extend the life of your paint protection even further. Trust us. Your vehicle will thank you for taking the extra step to keep it looking its best.
At Fine Shine Detailing, we can provide expertly installed paint protection films. To safeguard your vehicle's paint and keep it looking fresh and new for years.
OTHER BRANDS WE DO PAINT PROTECTION FOR