Mercedes-Benz Paint Protection
Do you want to ensure that your Mercedes-Benz looks pristine for years? Paint protection is essential to keep your car looking shiny and new. Whether you've recently purchased a new car or have an older model that needs some care, paint protection is worth considering. Moreover, we'll be diving into the benefits of Mercedes-Benz paint protection. And what it takes to get started with protecting the luxury paintwork of your vehicle. Learn why investing in Mercedes-Benz paint protection today can lead to a better resale value tomorrow!
Understand the Different Types of Paint Protection for Mercedes-Benz Cars
Taking care of your Mercedes-Benz car is essential in preserving its appearance and protecting its value. On paint protection, different products are available in the market, each with unique benefits. The most common ones are wax, ceramic coating, and clear bra.
Wax can effectively provide temporary protection against minor scratches but requires regular reapplication. Ceramic coating is a long-lasting solution that forms a layer of protection on top of the paint. It makes it more resistant to damage from UV rays, contaminants, and minor scratches.
But, a clear bra is a type of film that covers the front of the car, including the hood, fenders, and bumper. It provides excellent protection against rock chips and road debris. It understands the different types of paint protection available for your Mercedes-Benz car. You can decide which paint would best suit your vehicle.
Learn About the Benefits of Professional Paint Protection
We know you want to keep your car looking as good as new for as long as possible. It is where professional paint protection comes in. Not only does it keep the exterior of your car looking fresh. But it also protects it from harmful elements, such as UV rays, that can damage the paint.
With the help of a professional, you can rest assured that your car will look its best for years to come. Investing in paint protection is an investment in the value of your vehicle. As it can help keep its resale value over time. Take action now and learn about the benefits of professional paint protection for your Mercedes-Benz.
Consider the Cost and Maintenance Involved with Paint Protection for Mercedes-Benz Cars
When it comes to maintaining the beauty of your Mercedes-Benz, paint protection is a must-have. It keeps your vehicle looking new and preserves its resale value. With many options available, choosing the right paint protection package can seem overwhelming.
But, we need to consider the cost and maintenance involved and the level of protection offered. At the same time, some packages may be more expensive. They may have added benefits such as warranties or self-healing capabilities. Proper maintenance of your Mercedes-Benz paint will also ensure it lasts for years. Investing in the right package and taking care of it makes you feel confident in your car's appearance and safety.
Tips for Cleaning and Maintaining Your Paint Shield
Maintaining the integrity of your Mercedes-Benz paint is necessary for preserving your vehicle. The looks should always be new, the showroom shine, and protect its resale value. To keep your paint shield looking its best, it's essential to understand your package type. Some packages may include protective coatings and films such as a clear bra, ceramic coating, or vinyl wrap.
Depending on your package, there may be different cleaning and maintenance techniques you should use to keep it in top condition. Yet, some general tips for cleaning and maintaining your vehicle's paint include washing with pH-neutral soap. Also, avoid harsh chemicals or abrasive tools during cleaning. Thus, use a high-quality wax or sealant to protect against environmental damage.
Deciding Between DIY or Professional Installations for Paint Protection
When protecting your Mercedes-Benz's paint, you may wonder whether to take on the task yourself or hire a professional. In comparison, the DIY route can be appealing. Considering the complexity of installing a high-quality paint protection package is essential.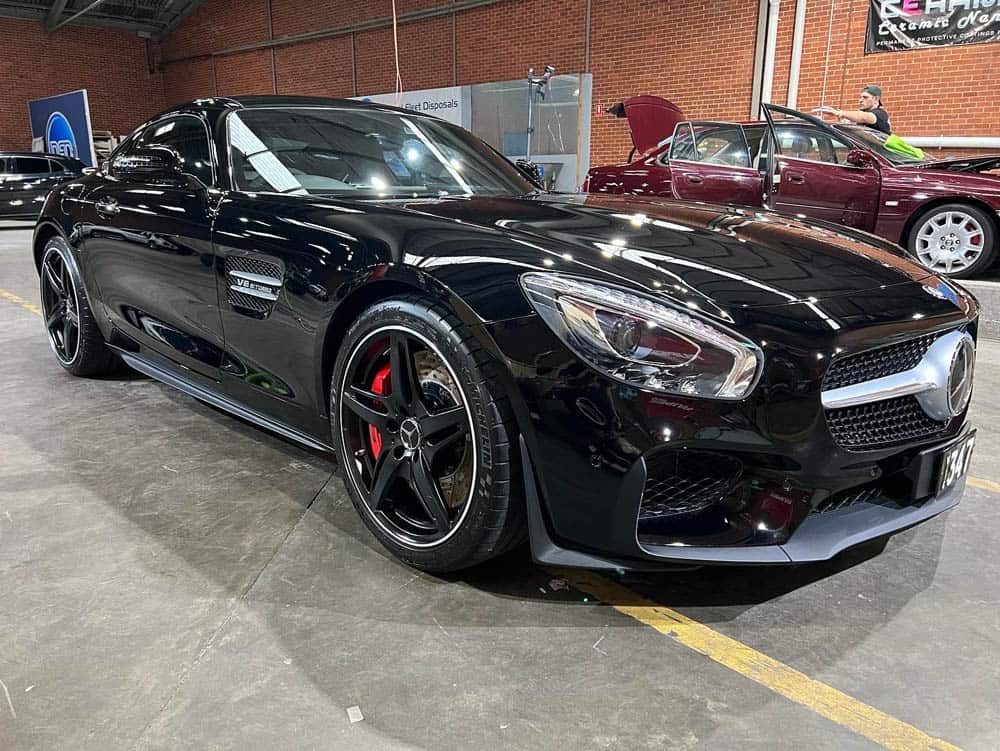 But, a professional installation can ensure the protective film is applied evenly and accurately. We provide excellent coverage and adequate protection against harsh weather and road debris.
Additionally, many professional installers offer warranties for their work and use high-quality products. It gives you peace of mind that your investment is in good hands. Choosing between DIY or professional installations depends on your knowledge and skills. Likewise, the level of your budget and your desired level of security.
Conclusion:
At Fine Shine Detailing, we can provide expertly installed paint protection films. To safeguard your vehicle's paint and keep it looking fresh and new for years.
Our range of PPF solutions ensures bright colors remain vivid. We are maintaining that newly bought car feels with guaranteed protection, against everyday environmental and wear and tear damages. We understand your vehicle is essential to you, so let us give you that extra assurance with our professional installers.
To learn more about paint protection films for greater peace of mind for your Mercedes-Benz. Don't hesitate to call us today. With Fine Shine Detailing, you can be sure you are always getting the best customer service and exceptional craftsmanship. So put us first when protecting the quality of your cherished Merc!
OTHER BRANDS WE DO PAINT PROTECTION FOR